Hey Dorks! Rossie(I don't know if he is cool with that name, but I am admin, so whatever(just kidding Rossco!)) is back with part two of his Disney history piece. This time he tackles some Disney stuff you may have seen long ago but only remnants remain. I am on my way to Disneyland to snap some pictures for a new post! With out further adieu... LeftoverLand Part Deux(or Recycle, Reduce, Reuse) -J
Hello again! Because of the awesome support and thousands of viewers my last post generated, I have been invited back to the EGG! (Evil Genius Guide) This round of leftovers will focus on 3 attractions I remember as a kid...and the last will focus on my favorite men in Disneyland! Genius and I did a quick brainstorm and found so many cool old pieces and tributes to the park, they can't all be mentioned...even if we did 20 posts dedicated to the topic. So I just wanna point out few fun pieces of visible DL history to look out for next time you are farting around! ENJOY!!!
1)
Motor Boat Cruise to Gummi Glen
So back in the 90's Disney had a cartoon show (with a kick-ass
intro song
) called "Disney's Adventures of the Gummi Bears". Disney also had the old Motor Boat Cruise ride back behind Autopia...and I guess it needed a little bit of Mike Eisner (gag) Magic. So with the help of some cheap wooden cutouts, Eisner gave birth to the butt-baby know as ~ the Motor Boat Cruise to Gummi Glen. Thankfully the ride didn't last long (2 years) because Toontown was built! Yay! Unfortunately Disney never reopened the motor boats :(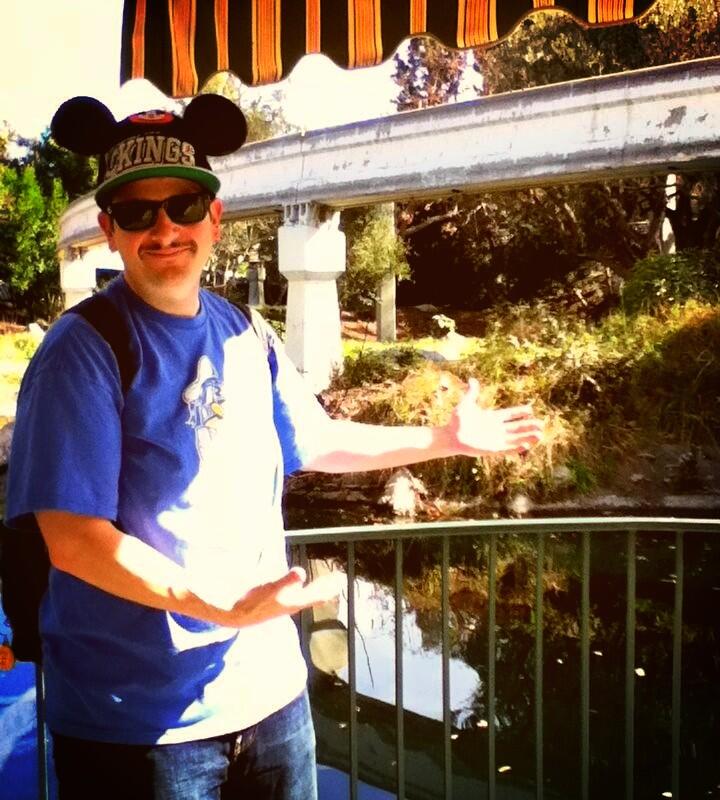 This way to Gummi Glen! I'm standing at the edge of the old dock.
Next time you are heading into the lovely Toontown be sure to look to your right. The old dock is still there...They now call it Fantasia Gardens...but it's just a smoking section. Still, the area is worth the 30 second detour while on your way to getting a frozen apple drink...mmm...tasty.
2)
The PeopleMover tracks
One of the most visible parts of Tomorrowland are the tracks to the old PeopleMover. They are freakish and giant. The PeopleMover was the shit! I loved taking a trip through all the Tomorrowland attractions especially going through Star Tours. It must be a real bitch to take out that track system otherwise Disney would have ripped them out years ago! They dominate the whole land and remind everyone that Tomorrowland will always be at a crossroad. Even though the tracks dominate the land...they aren't as ugly as the
brown
Space Montain.
PeopleMover ride from way back when
Photo by Bill Allen
Fort Wilderness is the giant fort located in the middle of Tom Sawyers Pirate Lair (What the Fuck) Island. As a 5 year old I loved going around Fort Wilderness pretending I was Davey Crockett with my sweet ass rifle (the one that wasn't pained green +
orange
) and my coon skin hat. It was one of the few places at the park that my parents would let me run around by myself. Anyway, Fort Wilderness was never kept up during the Mike (cheap-ass) Eiser Era, so termites ate away at the fort :( Now Disneyland cast members use the fort for Fantasmic costume changes.
Davelandweb.com
(awesome blog) has a great
photo page
of the fort from when it was build until now.
photo pulled from http://davelandweb.com






When walking along Main Street heading towards the Castle, located on the right side of the street there used to be a tobacco shop...where you could buy cigars...yeah people were able to smoke everywhere! In front of that store is the first Tobacco Shop Indian you will find in the park. The Indian is bad-ass and i always have to get a wedding photo with him. The store now sells music or some shit (who cares)
Heading into the main Frontierland entrance you will find on the right hand side the most kick-ass pin store
Westward Ho Trading Co
, which is also home to the equally as cool Second Tobacco Store Indian. He has a different color cape and he is a kinda angry but he is just as awesome. Apparently the Westward Ho store never did sell tobacco but the Indian draws attention regardless and he is a perfect fit for a trading store in Frontierland. Make sure to pay him a him a visit...it's a great pin store with another great wedding photo opportunity.
These structures are my favorite visible pieces of old Disneyland. Not saying they are the coolest pieces but they sure are noticeable! Years ago some of the areas used to bother me. I felt it was just visible decay...now I realize that a lot of these places are headed for the chopping block soon, so I should enjoy them while they are here.
A giant honorable mention goes to all the repurposed vehicles, ride ticket booths, and audio animatronics found throughout the park. I always keep my eyes open for these kinds of weird because it is fun details that make Disneyland the coolest shit ever.
Old Ticket Booth
Most of Splash Mountains characters came from America Sings